Dream Platinum 95 is our softest and most luxurious turf that we offer. The backing is perfect for pets and general clean up due to its quick drain characteristics. Also, a weed barrier is not required with this turf.
Made in the U.S.A. 
Approximate Total Weight: 95 oz.
Approximate Pile Height: 1.75 in.
Backing: Polyurethane
Fiber: Polyethylene Monofilament
Infill: 1 lbs/psf
Warranty: 16 Years
Roll Width: 15 ft

What is DuraBlade™ Technology?
DuraBlade™ Technology integrates raw material with a modern extrusion technique to create a molecular structure that improves fiber performance and durability.
Higher Durability
DuraBlade™ is 2X more durable than existing grades which means better resistance to high traffic.
Better Temperature Resistance
DuraBlade™ is also more resistant to high temperatures which allows better protection against the colors fading over time.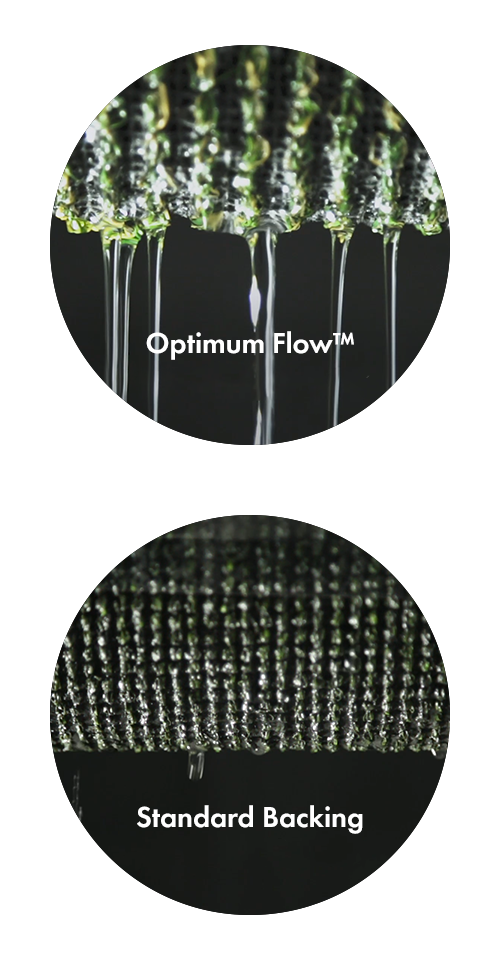 Optimum Flow™ Drains
8x Faster
Optimum Flow™ Backing: 250" of Water / Hour

86%

86%

Standard Backing: 30" of Water / Hour

16%

16%
Optimum Flow™ is our non-perforated backing that will drastically affect the drainage efficiency of your turf. With the new patent-pending Optimum Flow™ backing that increases the drainage rate by approximately 830%, the turf will be cleaner, drier, and free from any unpleasant pet odors.